Cleaning Services For Your Perth School
Are your current cleaners doing all the little things?
Are you frustrated by low-quality cleaning and teacher complaints?
If you think your school could be cleaner, Intrepid Cleaning can help you achieve it.
We provide safe, trusted and complete cleaning solutions for WA schools looking to improve the presentation of their facilities.
Open and regular communication
Experienced cleaners that do the little things
Uniformed, ID-wearing cleaners with WWC
Fully accountable — no sub-contracting or franchising
Cleaning is essential to any school. But, at the end of the day, you want to drive student enrollments.
What's the best way to do this?
A clean school will help, but great facilities and teaching staff should be the priority. We think that excess school funds should go towards new capital works projects, or staff salaries — NOT donated to complacent cleaners.
Reviewing your cleaning and other contract services can lead to more funding for the important things that are more likely to boost enrollment numbers.
It's never a bad idea to revisit your existing contracts, even if it's just to explore options for the school.
Your Perth School Cleaning Specialists
Creating A Safe School Environment
We understand that security is of utmost importance in a school setting, so all staff are police checked, WWC cleared and wear uniforms so they can be easily identified.
In a large school setting, cleaning quality can slip if the right processes aren't in place, that's why we employ rigorous team supervision and quality auditing for every service. Triple-checking our cleaning enables us to achieve the high standards we set ourselves for all school premises.
K-12, Secondary and Primary Cleaning Services
We clean a range of education facilities, from single-stream primary schools to large secondary schools and higher education providers.
Our cleaners are incentivised to report property maintenance issues, collect lost property, and look out for any little extra tasks to do that could make your life easier.
We become part of your team.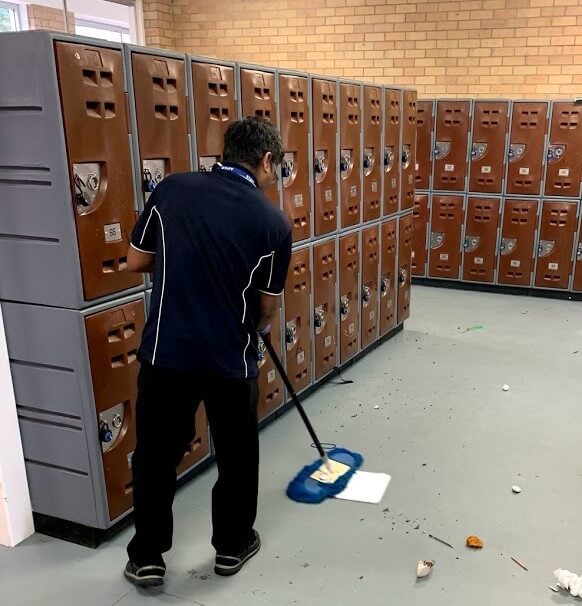 Committed To The Environment
Your students and staff should never be exposed to harmful cleaning products, that's why our school cleaners only use green and eco-friendly products, which we only use for the specialist cleaning of schools.
A growing number of children are developing allergies and having adverse reactions to chemicals, which can be particularly bad for those suffering with asthma and other respiratory issues. By using non-toxic and natural products these problems can be minimised greatly. For added peace of mind, we always provide Safety Data Sheets (SDS) forms for all products used on your premise.
FREE Tender Request Template
We've made it easy for you. Get a FREE 'Request For Tender' template in Word format, direct to your inbox. You can edit the template in 5 minutes, add your school's details and then send to prospective cleaning companies and assess your options.
What To Look For In A New School Cleaner
1. Checks & Supervision
Do they have established processes?
How often are inspections completed?
Will there be a dedicated supervision on site, how many days per week?
2. Timely Communication
Who will be the point of communication?
Will someone be available outside of school hours?
How flexible are they to respond to school events, and changing cleaning requirements?
3. Transparency
Given the duty of care to students, what checks are in place to protect students?
Are cleaners fully background checked and vetted, how frequent is cleaning staff turnover?
Do they GPS track their cleaners?
4. Risk Management
Do they have appropriate insurance, including additional cover for keys or access cards?
Are pay rates aboveboard, and is there a strong commitment to OH&S?
What are the policies and procedures in case something goes wrong?
Going Out To Tender For A New School Cleaner Should Not Be Hard. Follow These 6 Steps…
READ MORE >
What Your School Cleaners Should Be Doing To Combat Coronavirus Everyone is talking about Coronavirus. Whether…
READ MORE >
Fully Vetted Cleaners

Uniformed, ID and WWC
GPS Tracking 

Frequent Inspections
Eco-Friendly & Sustainable

Attention To Detail